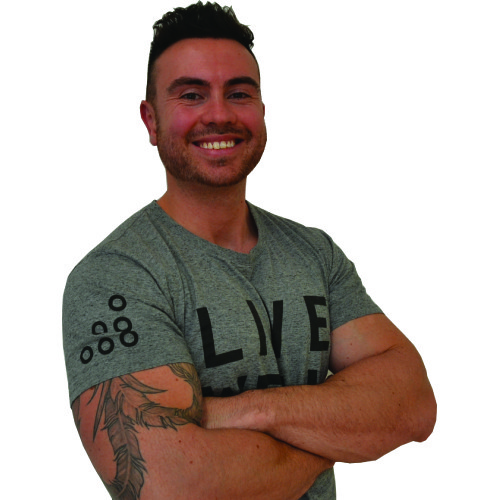 I thought I'd share an insight into my life and to keep everyone up to date on how Live Well is growing, some successes of 2016, the life of a full-time trainer and manager, and some exciting changes ahead for 2017.
It was both a challenging and rewarding year personally. The results were strong – training Xanthie, Kylie, Luckman, Deandra, Greg, Elaine and Max was some of the most rewarding experiences of my 12 year career.
Xanthie has unfortunately left Australia and moved overseas to England, and we wish her nothing but the best. Luckman has really dialed in his physique and his gainz are showing. Kylie has overcome so many challenges and stayed so positive throughout she even won the Live Well Client of the Year award. Deandra is in the best shape of her young adult life and even Eva Marie (WWE Superstar) would be jealous of her. Greg has reduced his belly drastically and is fitter than ever, completing mini-AMRAP's on one day and completing strength and conditioning sessions on other days. Elaine, despite what she says, I feel now is beginning to LOVE going to the gym and exercising two times per week (admit it!). Max is one of my youngest clients I've ever trained, his stability during weighted exercises is always improving, and is to be commended for actually understanding how many meme's I use randomly at work.
As the Live Well brand has been growing, my day-to-day management role is to take care of our staff not just our clients. It's been extremely rewarding to see Chris grow as a trainer, he's stepped up to be promoted to help our Online & Corporate Training departments. His efforts were rewarded with a full-time contract throughout the second half of the year and I'm excited to see him develop more over the coming years.
I've really appreciated and am thankful for the support of our team of trainers and admin. They make my role a lot less stressful and help reduce the pressure during what can be sometimes overwhelming conditions. I'd like to take this opportunity to thank each and every one of them for their support.
As equipment had a bit of a make-over with Chris bringing a lot of his own gear into the studio, the members have greatly enjoyed the new workout options and safer environment for heavier lifts. We're constantly reviewing floor plans, equipment itself, and always on the lookout for new pieces that can benefit our loyal base of members and personal training clients. We aim to provide a safe and enjoyable workout environment that is designed to help you achieve your health and fitness goals in a no-pressure non-intimidating environment. We prefer not to buy into "fads" and rather put our investments into tried and true classics that actually produce results.
On a personal note, my partner Ally and myself had our 2 year anniversary during the year, and most recently got to see one of my favourite TV shows live in person do an event in Homebush. For anyone that knows me, I'm a huge wrestling nut and having NXT come to Australia was a dream come true.
At Live Well, there's always events that we work towards as well, so stay tuned with the emails we send out as to all the exciting events we have planned for next year! Annual classics within the studio such as the Live Well Challenge and the Fitness Games will be returning, as well as new additions.
I'd like to wish everyone a happy holiday season and a safe new year. If there's anything the team at Live Well can do, always feel free to contact me on 9587 4100 or email me personally at simon@livewellfitness.com.au
Simon Jeremy
Studio Manager
Live Well Health & Fitness Studio