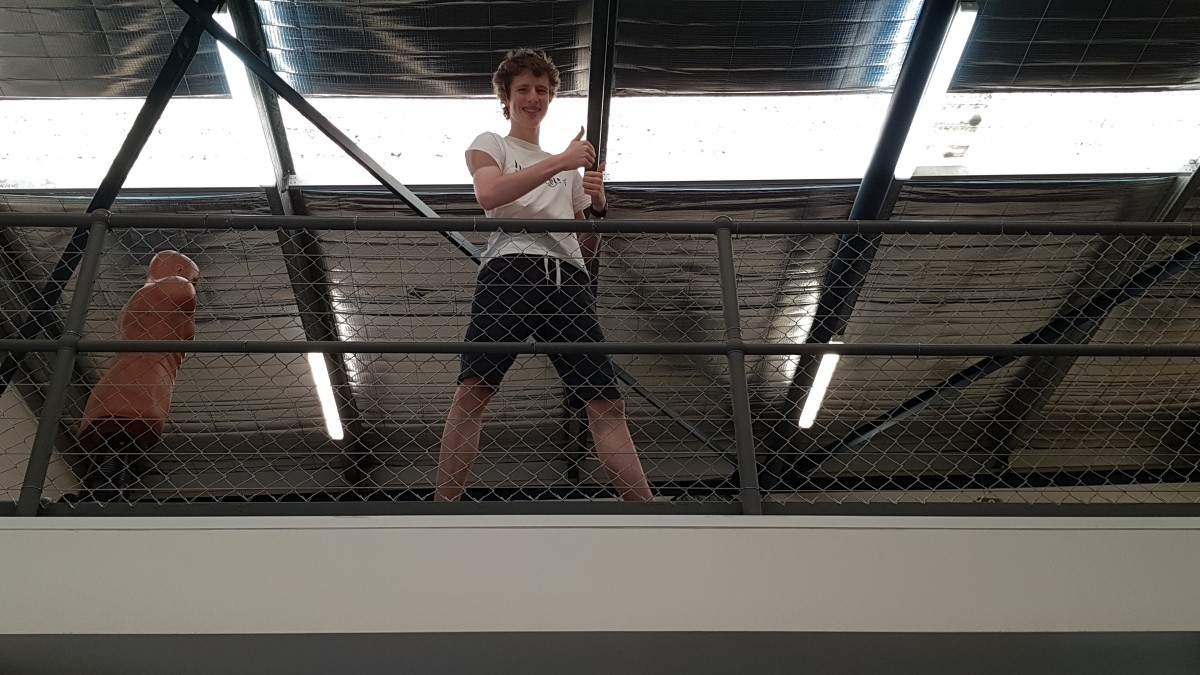 Simon: This week at Live Well we had a visit from local Year 10 student, Max, who completed 30 hours of required work experience with us. We loved having him with us during the week and we asked him along the way to produce a blog of his experiences. Here's Max's very first Live Well blog… 🙂
9th April, 2018
Walking into the Live Well building for the first time with intentions of working (contrasted with working out) equated to the same fear and excitement levels of stepping into my first PT session. Never having worked in a business environment before, the tasks set out for me, while straightforward and attained little room for error, were daunting. My concept of 'working' was flipped on it's head within a few minutes. Tasks I had never thought needed doing were asked of me, and that scared me the most. Far more work happens behind the scenes in a secluded area rather than out on the floor. I enjoyed the feeling of always having something to do, especially while assisting the trainers. Becoming familiar with the systems in place was the most challenging part of the day and knowing how to not screw it all up.
The Live Well team were nothing short of incredible, supportive, kind and extremely helpful throughout the entire day. The rest of the week will be something to remember.
10th April, 2018
After becoming familiar with the work ethic at Live Well and the expectations, walking into the second day didn't engulf me as it did on the first day.
I was able to shadow my first PT session, and that's when I realised how important the PT's job is. Without their support or encouragement, the gym would be full of stigmas. I found helping and simply viewing a session increases my knowledge of exercises possible – not everything must be conventional. Being creative was the main encouragement received from the few hours I was able to take part in.
I definitely found some of the administrative work tedious, but the final outcome of client happiness, even to the person sifting through folders and information, was worth the "pain" of the work.
Further, Simon and I filmed a quick introductory video for our active members to view. It definitely didn't embarrass me to no end! (Active clients, you can find it on the private Facebook group)
11th April, 2018
An early start to a substantially longer day. The nature of the tasks were familiar and I began to recognise the usefulness and the necessities of them, leading to an improved experience for the client. Going above and beyond one's expectations through simple tasks, such as packing away weights or setting up any further exercises.
Posting a motivational quote and image on Live Well's public page was entertaining, motivating me to participate in my weekly sessions with more enthusiasm than before.
I had an opportunity to assist Simon in a PT session with another client, Greg – my grandfather. Seeing Greg's enthusiasm and readiness to train was incredible. Let's just say he wasn't best pleased after adding on extra weight!

12th April, 2018
The longest day had arrived. Today, I was able to interact with more clients, assist in more classes and tidy the place up some more. Organising the plates and dumbbell racks were somewhat therapeutic tasks!
In the tail end of my shift, I assisted Chris with a Mov3Fit class, which Sophie attended. She seemed to never tire, even after Chris threw everything he had at her! (spot the Photoshop job anywhere?)
Those participating in the class were fun to be around for the short half-hour. Finally, the remaining hour after flew by with Andrew and Matthias' hour-long session. The pair were astonishingly energetic, and improving efficiency within their session was joyous, and if I had to pick a single highlight from the week, it would be that hour. It was constant movement between the pair, while also helping Chris wherever possible.
13th April, 2018
The final day arrived. It brought along with it a sense of sadness to be leaving such a wonderful workplace. Throughout the week I became familiar with the routine and expectations of not only a typical week outside of a schooling environment, but the process of interacting with others in a professional, yet kind and caring manner. I really enjoyed getting to know clients, such as you, reader. It was quite an experience.
Finishing up the week with a quiet, yet enthralling six hours allowed administrative work to be completed. I arrived just in time for the Parkinson's class. After, I realised it had challenged my view of bodies and health – they're not going to stick around forever. Additionally, taking a good state of health for granted is a poor choice. Age is just a number, but avoiding exercise simply due to one's, in my case, younger body leaves room for disintegration in later years thanks to a poor mindset.
Mark was the standout client for me. Boxing with him challenged even my own fitness levels! His agility and strength was impressive and proved the importance of a positive mindset. His ability stood out to me and was certainly a head-turner.
Thank you so much to every staff member at Live Well, and every client – whether I met you or not. It was an honour getting to know you all. It's not as if I'm leaving for good though, I'll still be training every Tuesday and Friday, but this time with far more insight into how a business functions and the clients who make the overall experience so much more enjoyable.

Max Klamus
Work Experience Kid